BID TO POISON STRAYS SUSPECTED ( THE TIMES: Tuesday, April 18, 2006)
Michael Testa

Someone is lacing dog food with a poisonous substance at Buskett gardens, Alfred Fenech of the Abandoned Animals Association suspects.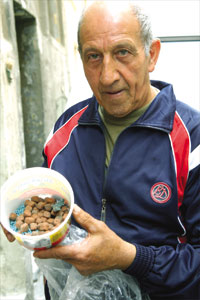 He said a concoction that had been left in a plastic container, in an area of Buskett which is frequented by families, was very dangerous if ingested. Someone was probably trying to get rid of the stray dogs and cats which roam the area, he said.
He suspects that a particular target for the substance, which was handed over to him by AAA helpers, was a Great Dane which was spotted in the wooded area. The container with food pellets and small light blue pellets was given to him on Easter Sunday by helpers Ganni and Margaret Fenech who found it near some bushes.Mr Fenech said he was taking the substance to be analysed by a laboratory. He appealed to anyone who comes across similar substances in the area to report it immediately to the AAA on 7929 7930, 9946 4182, or to any other animal welfare association or the police.

---
GREAT DANE NEEDS HOME ( THE TIMES: Thursday, April 20, 2006)
The Great Dane that ran the risk of being poisoned at Buskett Gardens is safe and sound at Noah's Art animal sanctuary.
Dog lovers who used to feed the dog had informed the sanctuary about the dog which was picked up by volunteers and taken to the sanctuary in Paradise Bay.
Noah's Ark, which takes care of about 80 dogs, is trying to home the dog, named Jumbo. The contact number is 7973 0900. Earlier this week, Alfred Fenech, of the Abandoned Animals Association, suspected that someone was lacing dog food with a poisonous substance at Buskett Gardens after he was handed a container with food pellets containing a potent poison in the form of light blue pellets.
Possibly, someone was trying to get rid of the strays, he said.
---
JUMBO IS NOW IN GOOD CARE AND HAPPY AT HIS NEW HOME IN PARADISE BAY